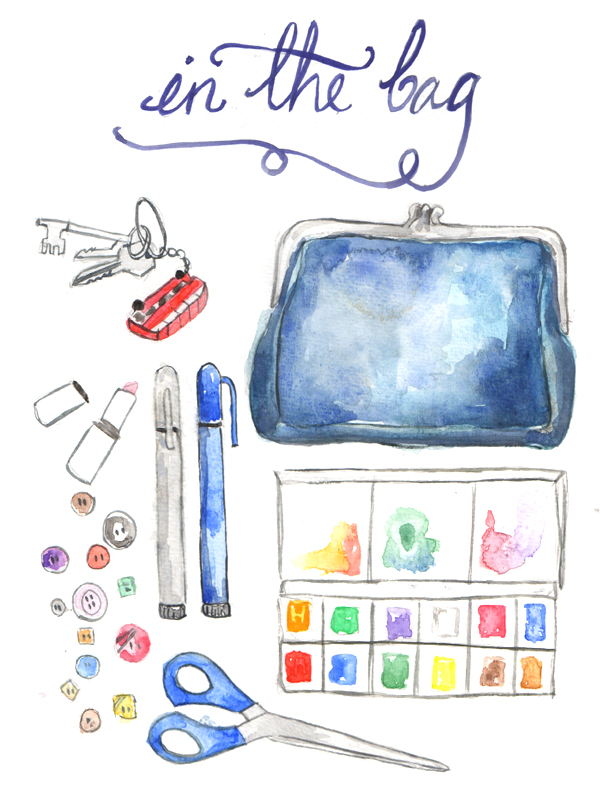 Hello and welcome to the very first 'In The Bag', a new feature where I take a sneak-peek into the handbags/totes/man-bags of creative people.
This feature was inspired in part by those ' a look in the handbag of' celebrity interviews you sometimes see in magazines (they were always my favourite, I think I'm a bit of a voyeur!) and my little sister. We were having lunch a few months back and when I came back from ordering I found her going through my handbag, pulling out all the weird things in there which at the time included a screwdriver. Other than pointing out I needed to clean out my bag, this made me realise that the things people carry around with them can be a great insight into their individual creative process!
So, without further ado, here's the first 'In The Bag' featuring me! The watercolour illustration is also by yours truly; it's cuter than a photo and it gave me an excuse to paint! Hooray!
- Status Anxiety Purse - This gorgeous leather purse was a birthday gift from my sister two years ago and since receiving it, I haven't looked back! I love the 'CLICK' of the metal clasp and there's just something about carrying around a purse that makes you feel like a lady!
- Windsor & Newton Watercolour set - As you can see, I'm a bit of an amateur painter. After a painting-outing, my 12-pan watercolour set ended up in my handbag and just kind of stayed there. It's the perfect travel size and easy to pull out and do a quick doodle with on the train!
- Scissors - Oh my goodness, I feel like I spend half my life looking for scissors! They seem to be one of those items, like pens and Tupperware, that people just don't seem to mind stealing from you! So this little pair has taken up permanent residence in my bag although it's probably only a matter of time until I loose them as well! (more…)